Get a car's VIN from REGO number for FREE
Sometimes when searching for your next car the information that's available to you is limited, especially when you are in the early stages and haven't yet seen the car in person. Before you make the next move its good to arm yourself with as much info as possible. One of the most obvious identifiers when searching for a car online is the cars registration number.
How can you get more info from the rego number?
A car's registration number is a unique identifier assigned by the state to that car and only that number combination is associated with that car in the state it is registered in. There are some overlaps though between states when it comes to custom and personalised plates so the state where the plate is issues is also important to identify that vehicle. The good news is that with a VIN number you can perform a PPSR check on the car that will reveal a lot about the car's Finance status and accident history as well if it's been reported stolen. Unfortunately, not all Free Rego Check websites across states will provide a car's VIN when searching by rego.
How to get VIN from Rego number for FREE?
If you have access to the vehicle, even if it's locked, you can see the VIN in the bottom passenger side of the front windscreen on most makes and models. If the vehicle is unlocked just check the door jams and there will be either a build plate or a compliance plate visible. The VIN is easily readable from this. There are however other options if you only have the rego number.
If you're outside of Queensland and doing a registration check on your State Government website then the VIN is usually obscured or only partial. There are websites that will allow you to perform a PPSR check using a registration number, however they can cost upwards of $20 to perform the check.
We have found a few hacks which at the time of writing this (August 2023) where you can find the VIN for any vehicle in Australia for FREE. These hacks also give you some additional info about the vehicle like engine and gearbox specs, expected KMS and valuation which can be useful to compare to info you already have about the car. This will work no matter if your vehicle is from SA, NSW, VIC, QLD, TAS, ACT, NT.
What you need to do is go over to Gumtree, one of Australia's most popular marketplaces to buy and sell your car free online. Sign in or create an account and the choose to post an ad. You will be greeted with a screen asking you to choose your ad type and select sell my car. What you will be presented with is a screen to enter your rego number to make it "easier" to get the details of the vehicle that you are "selling".
Once you enter the vehicle's rego number and press Find my car you will get a screen with all the info about the vehicle with that registration number including the full VIN number.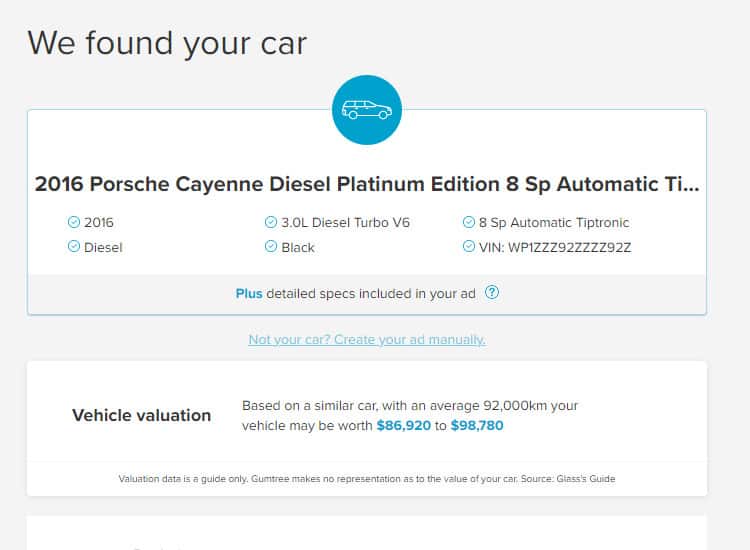 State Based Rego Checks
In some states (VIC and QLD) you're in luck because the VIN number is provided to you when you search a vehicle's registration number, and this is FREE. Once you have this info go on over the Government's own PPSR website and perform a $2 check on the vin. Find the link to Free VIC and QLD rego check on this page.
With this information just COPY and PASTE the VIN and preform a $2 PPSR check, it's that easy.
If you find this method doesn't work anymore, please leave a comment and we'll update the article. Or if you have another way we'd love to hear from you.