If you're living in Queensland and are thinking about buying a car, it's really important to do a QLD car rego check. Many people might not know why, but on this page, we'll break it down for you. Checking the car's rego is a step you shouldn't skip. It's not just about paperwork; it's about making sure everything is legit before you spend your hard earned dollars. And here's another thing, anytime you're about to drive a car in QLD that you aren't familiar with, maybe it's a friend's or one you're thinking of buying, always do a quick registration check. This way, you make sure you're not getting any surprises and you're staying safe on the road.
Not in Queensland? We have complied an exhaustive list and information about Free Rego Check services for all the other states and territories here in Australia. Visit the page to to find the rego check link for your state or territory.
What is a QLD Rego Check?
A QLD vehicle rego check, is a way to look up current registration status of any car you own, drive or are interested in buying in QLD. This free service is provided by the Queensland government for every vehicle registered in the beautiful Sunshine State. This search is limited to QLD registered vehicles only, if you have a vehicle with rego outside of QLD, use that state's rego check service.
When you perform a QLD check rego you can search using either the VIN or registration number, the results you'll typically find: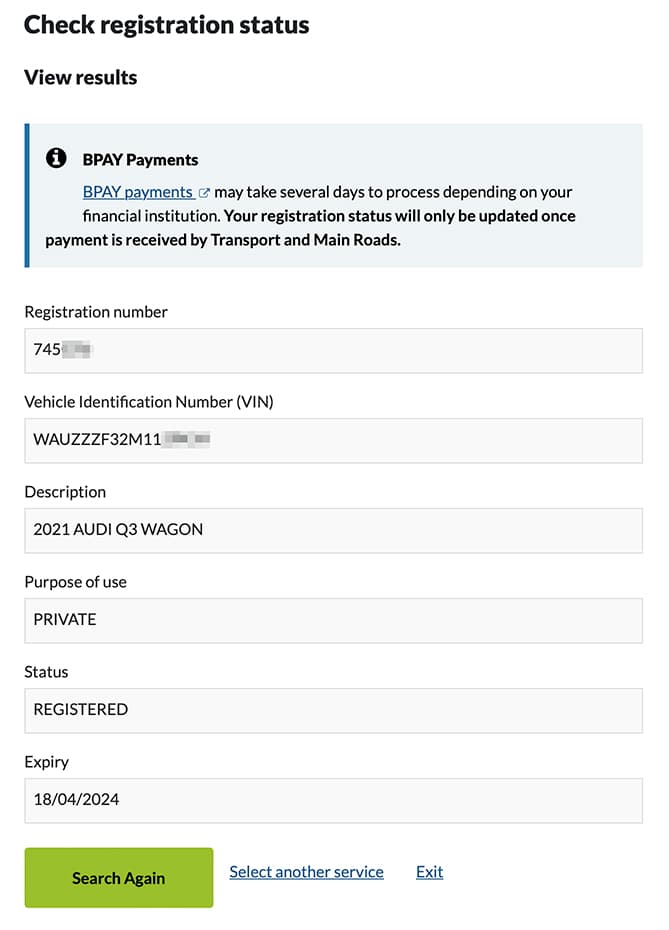 Registration number: e.g. 745PR6
Vehicle Identification Number (VIN): e.g. WAPZZZF32M1139434
Description: Year, Make, Model, and Body of the vehicle.
Purpose of use: Whether it's for private or commercial use.
Status: If the car is Registered or its registration has expired.
Expiry: The date when the registration will lapse.
The Importance of the QLD Car Registration Check
Making a queensland car rego check is critical for several reasons:
Legal Ramifications: Queensland laws mandate vehicle registration. Check your Queensland car registration to avoid substantial fines or even the impounding of your vehicle. This is especially important when buying from a private seller who might look up QLD rego and not disclose the full details.
Mechanical Concerns: Unregistered vehicles can sometimes point to hidden mechanical issues. That's why it's always a good idea to use the check my rego Queensland to ensure you're not in for unexpected surprises.
Insurance Pitfalls: With an active QLD vehicle registration, you're usually covered by Compulsory Third Party (CTP) insurance. Without it, you're personally and financially at risk should an accident occur.
How to Check QLD Registration
So you might wonder, "How do I check my QLD registration?" It's simple! Head over to the Department of Transport and Main Roads website or download their official app on the Apple App Store or on Android using google's play store. Or, to simply check your QLD rego using your browser and use this link to perform a QLD registration search: https://www.service.transport.qld.gov.au/checkrego/application/VehicleSearch.xhtml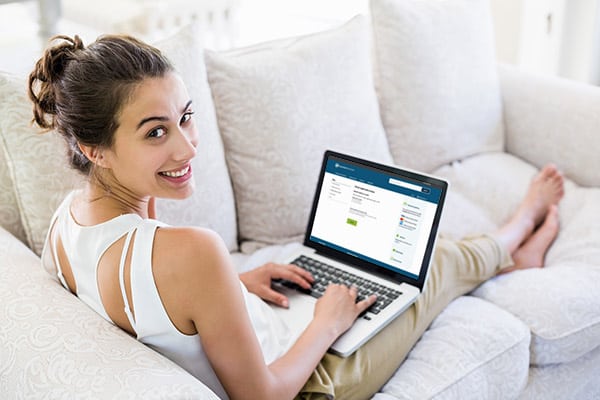 Going beyond a basic QLD rego search
While the free QLD rego check offers just enough of information to get you by, some details are absent in the free QLD rego search. You won't get insights about written off history, pending finances or if the car was stolen.
For a mere $2, you can get a $2 PPSR check which will give you way more info than is available in the free QLD Check rego report.
A PPSR report covers:
PPSR search
Stolen check
Written-off check
Finance check
VIN check
The PPSR Check QLD
The PPSR, or Personal Property Securities Register, is a comprehensive government record that shows if there are any outstanding debts on a particular vehicle. This is important for buyers, if there's an outstanding finance on the car, the responsibility might pass onto you. The report will also show you if the vehicle is stolen or has ever been in an accident and written-off.
Ready to get your $2 PPSR report? Just go over to the PPSR website and you can do a search using the car's VIN. Visit our PPSR article for more info about doing a PPSR check and what information it contains as well as a way to get a FREE PPSR Report.